WRVDH Series Blower Heaters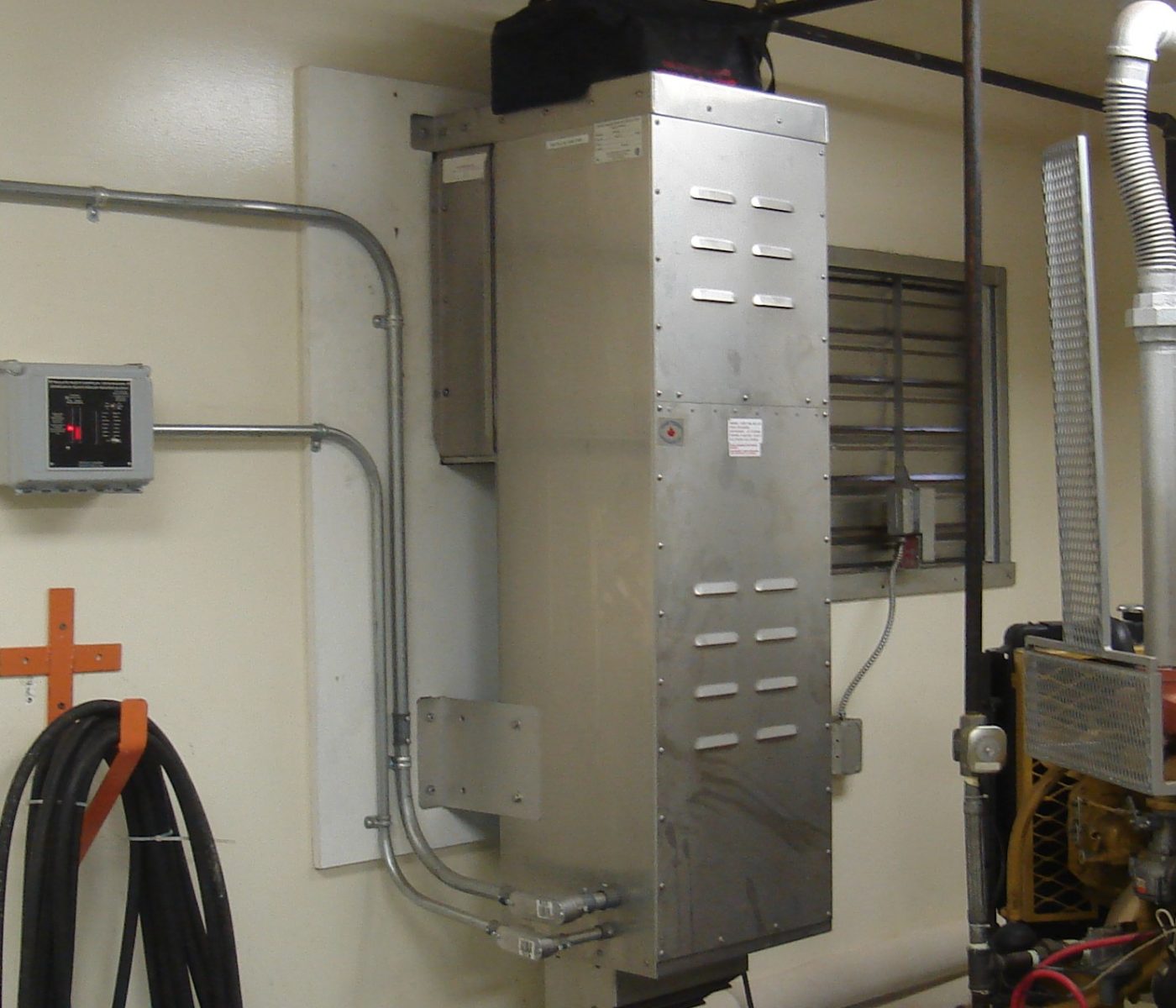 WRVDH Series blower heaters are suitable for indoor wall mounting with separate outdoor louver section. Bottom discharge can be round flat bottomed or rectangular with collar. Bottom discharge adaptor plate provided for round discharge.
The larger WRVDH Series blower heaters; 6Kw and higher, provide staged heating elements to minimize power supply & demand billing charges.
Blower Heater Features:
Status Indication; Including "No Air" & Max Speed Indications
Overheat Protection
Low Temperature Shut Down
Discharge Temperature Sensor
Adjustable Fan Speed in Auto Mode
Full Fan Speed in Manual Mode
Auto Reset
Fan Boost Start
Staged Heating
CSA Certified
Air Intake Filtration
Regulated Air Velocity
Blower Heater Specifications:
Electrical Requirements:

Controls Circuit – 120/60Hz
Heating Element Circuit – can be 208, 240, 480, or  600VAC, 1 or 3 phase, 1,2 or 3 stages
Wiring Between Remote Dexon Status Board to Dexon Blower Heater (Typically cable supplied by Dexon)
Connections Between Optional Alarm Module and External Alarms (when used)

Heating Capacity – Available in 3000 to 40500WATT, with Staged Elements
CFM  Capacity:

Approximately 80 – 1520CFM @ 0″ Static Pressure Water Column (With Single Fan)
Approximately 100 – 2500CFM @ 0″ Static Pressure Water Column (With Dual Fans)

Variable Speed Brushless DC Fan
Dimensions Vary with Blower Selection and Capacity
Control Access is on the Front of the Unit and Air Inlet Collar for Through the Wall Mounting on the Back of the Unit
Wall Mounting Brackets and Outdoor Louver Section Provided
Bottom Discharge can be Round or Rectangular and Size is Based on Blower Selection and Capacity. Pipe Adaptor Plate with Gasket Provided for Round Discharge
Installation Requirements:
Status Indicator must be installed remote from hazardous location in appropriate enclosure
Class 1, Div.2 units must be fused remote from hazardous location
A pressure relief vent/gooseneck equivalent to discharge outlet is required
Blower Heater Options:
Class 1, Division 2, Gas Groups C & D Locations or Ordinary Locations Certification
Optional 95ALM Alarm Module for Interfacing with External Alarms
Manual Mode Interface to Initiate Full Fan Speed from External Dry Contact
Pre-mounted Status Enclosure
Refer to owner's manual for more information